Welp took her on a first big roadtrip down to the dynos the other weekend. Strapped down the truck bed camper and headed south, around 300 miles.
Made it about halfway and a rock pierced my tire. Used the on board air compressor to limp it to service and a gas station to replace the tire.
Besides that the truck ran like a champ! Pulled hills like nothing was there, making great boost around 30-41 PSI, EGTS never got above 1100, and I was getting mileage around 18. I did multiple WOT passes up the hills for fun and always eased into them slowly.
Made it down to the event pretty late the next day, missed out on a early dyno run and the show n shine.
Next day I got in line for the dyno, we got it all strapped down and they went to make a pass. Got into torque converter lock and laid into it. Truck blew a cloud of white smoke out the tailpipe and the motor ran rough for a few seconds until he let off of it. The truck had a injector misfire at WOT and sent a overload of unburnt fuel through the motor.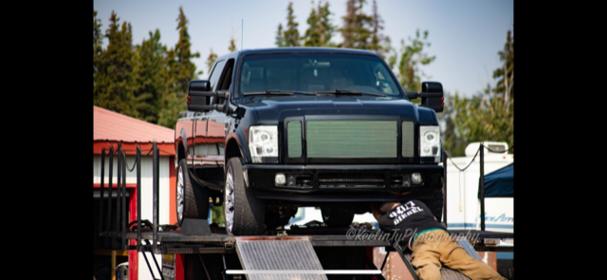 Truck did like 488 HP and 895 Ft Lbs. It had a lot more to go.
So we pulled the truck off plugged it in and ran a injector contribution test both at idle and under revs. Everything was right in spec + or - 1
We ran a BG Diesel Injector Cleaner Service right to the High Pressure Fuel System, unhooked the truck and ran it down the drag strip.
Same issue, on the first pass under aggressive WOT I get a misfire.
Two passes after that, with a gradual WOT I get nothing.
Fastest run was a 14.21
Has anyone had this WOT misfire issue occur?
I am going to switch from Sp@rtin to EZ Lynk and try again to see if it may be a tuning issue.
But after that, how do I track down which injector may be causing the issue?
Injectors have 104,000 miles on it and I sent the injectors to Oregon Injection to get bench tested before rebuild. One failed and was replaced and the rest were fine. Don't just want to throw new injectors at it to do it.
Looking for advice, thanks
We also ran one of our semis down the track which was a crowd favorite, fun stuff!