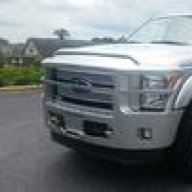 Joined

May 7, 2012
Messages

973
Reaction score

5
Location
Truck has developed a bit of a wander. So I got underneath it and had wifey wag the steering wheel and found the problem. It's the ball joint on the end of the track bar at the axle. Clearly sloppy.

Called 2 dealers, one said $375 the other $595.

Wondering two things
1. Is there a greasable one on the market that's any good? Or should I go back to OEM? This one only lasted 60kmi.
2. Is this a diy job or a dealer w/ a special tool job? I hate to part with $400 over a $100 part and one nut, plus I'm working a j.o.b. these days and it's a PITA to get them my truck. It I'm sure is pressed in there with the fist of god tho, not sure what kind of press tool I'd need.

As always, thanks in advance.