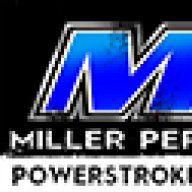 Joined

Sep 12, 2013
Messages

832
Reaction score

0
Location
I've been working on an alternative to the PCS for controlling a 5R110 behind a Cummins, specifically the Common Rail 5.9 and 6.7. I had a customer bring me an 08 6.4 that he had swapped in a 2013 6.7 Cummins. He used a Destroked kit; mounts, harness, adapter plate, etc. Needed some wiring and tuning to finish it up. I've spent months fighting an intermittent no start/won't turn off issue that I finally traced to failed underhood fuse block :doh:
Back to the transmission. I could never get that stupid PCS to play nice. Wouldn't even let the truck shift with the base file from Destroked in it. So I removed that and hooked the stock transmission wiring back up. That made the truck shift but would limp mode with too much throttle and had unpredictable shift points as expected. Found a guy that had used the stock ECM/TCM on his 6.0 to run the 5R110 behind a 12 Valve and figured I should be able to do the same. Called Eric @ Innovative for the tune on an X4. This got the truck shifting and driveable at part throttle since there was no Ford TPS to control line pressure and kick down.
That led to this:
<


It runs both pedals together. Cummins pedals are only $80 and 100% plastic so was the one we modified. Removed the spring from it so the pedal doesn't have a heavy feel. With Eric's tuning it works awesome. Took about 50 miles to get the adaptive learn done and after that it shifts like a tuned up 6.4.
Here's a video of it shifting at WOT before it fully learned (blew the intercooler boot at the end LOL)
To setup another truck with this, it would be about $1000 for pedal, bracket, and X4 with tune. Tow/Haul functions like factory, shifts smooth from Park, Reverse, and Drive.
More details about the truck:
08 Superduty
2013 Cummins with 08 ECM and Destroked Harness, EFILive tuned
Has a BD Super B turbo, 4 turbo back, AFE Intake horn and Airdog, otherwise stock.
Stock 5R110 Trans tuned with X4 and Innovative custom file.