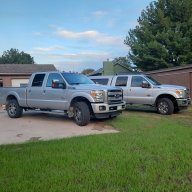 Super Moderator
Super Mod
Joined

Dec 28, 2020
Messages

226
Reaction score

43
My first thought was having a shop bench the injectors. There's a reason the return test doesn't really exsist outside of the bench. We run these all day long for customers
I never looked at the injectors that close, is it possible to get injection pressure back into the return line and blow the return lines off?
Or is it just a mater of available fuel being diverted to the return?
He said that an injector may not miss or act funny in anyway. May pass every test until you put it on a bench.
So that might still be my original problem. I got a ton of idle time on them. I need to talk myself into pulling them.