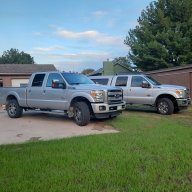 Super Moderator
Super Mod
Joined

Dec 28, 2020
Messages

244
Reaction score

44
Of course warranty is not going to be easy.
Spent some time on the phone with the supplier.
Went through all the troubleshooting I have done.
All he wanted to know is the code I am getting. Which is P2291. Injector pressure low while cranking.
He says, before we swap the pump. I need to check a few things.
I hate this, I knew warranty would not be easy but that is also why I went through so much troubleshooting already.
The things he said to check, check for oil leaks. Not sure how that applies, but I have no oil leaks. He wanted me to do an oil change. I will think about that one.
VCV, which he kept calling the pressure regulator, Check, I put a new one in, he was happy with that. He said they do come dead out of the box frequently.
Wiring, I did check that and he was happy with the testing I did.
PCM, same, he was happy with the testing I did.
Now the Pressure sensor on the rail. He says I need to change it first. And of course he threw in that i should have done that already. He says that is almost always the problem. Yeah heard that before, but I hope he is right.
When I unplug the rail sensor, pressure reads 29,000 psi on the scan tool. I asked, shouldn't the truck start then? He said it might but normally no. That doesn't really make sense to me. But okay, now I have to jump through their hoops.
Maybe I will get lucky and it will run.
google found exactly what he was telling me.
P2291 is a diagnostic trouble code of the Ford 6.7L Powerstroke
1
.
It means that there's a problem with the high-pressure fuel injection system, and the pressure is too low
.
The powertrain control module (PCM) has detected an insufficient degree of oil pressure needed to control the high-pressure fuel injection system
.
Common fixes include replacing the pressure control sensor, getting an oil change, fixing an oil leak, and checking for issues with the gaskets
.
But even more interesting, that link takes me to a 6.4 page
Another thought, this sensor is new and reads exactly the same as my old sensor. So either I would have 2 bad sensors or a wiring issue. Which I have no idea how to check yet. Need to dig into that and find a diagram.