I'm starting my tow pig build, so here is the thread.
The goal of the build is to replace the Ford 6.4 diesel engine and 5R110 transmission in my 08 F350 King Ranch with a twin turbo Cummins 6.7 and 6R140 transmission.
Performance objectives are to get as much reliable, fuel efficent power from the engine/transmission combo as possible for the purpose of towing a 14K pound 5th wheel in mountains as well as being a great daily driver and long distance driver.
Engine mods include paint, studs, 12V rods, twin turbos, tapped freeze plugs in the head, dual fuel filters and tuning with EFI Live.
The high pressure fuel system will probably remain stock, though I might install small oversize injectors if the fuel injection duration is too long to achieve the desired power. For injector longevity, I will be running stock fuel pressures.
The 6R140 and TC will remain stock. I specifically selected them for this swap because of their strength. I love the 6R140 gear ratios.
Numbers wise, I'm shooting for 1100+ ftlbs or better at the crank from 1600 RPM to 2750 RPM. If you are doing the math, that is 350 HP at 1650 and nearly 600 HP at 2750. Knock 20% off for driveline loss and I should see 280 and 480HP on a dyno. It will take over 50 PSI of boost to acheive this, thus the twin turbos.
A stock 2011 HO Dodge truck with a 6.7 is rated at 350 HP and 800 ftlbs at the crank and puts a bit over 280 HP to the ground on a dyno at 2700 RPM.
I am also seeking 20 MPG at 65-70 MPH in real world interstate driving and 11+ MPG pulling our 5er.
This engine will NOT be a dyno queen. Lots of Cummins engines can make 4-500 HP to the rear wheels for 10 seconds on the dyno. My engine mods are designed for tow use, which means no smoke and EGTS of less than 1300F at all times.
The turbo setup will be an S475 W 1.32 A/R primary and an HE351VE as the secondary. I might wastegate one or both, depending on how controllable the boost is via EFI Live.
A stock HE351VE delivers about 50 pounds per minute before it runs out of map. The S475 is from a Detroit Diesel Series 60 475-550 HP engine and delivers over 100 pounds per minute within its map.
I'm doing this project on a budget. When all is said and done, ie the old parts are sold, I am shooting for the overall cost to be less than $5K.
This is my second swap. My first swap was an 05 5.9 CR into a '99 F250 using a ZF6. Its run great for over 5 years. It was stolen and damaged last fall, thus this is the replacement truck for it.
I hope to have this swap running by the end of June, 2012, but I know that is very tight. I'm not sure if I'll make it or not.
Here is the truck.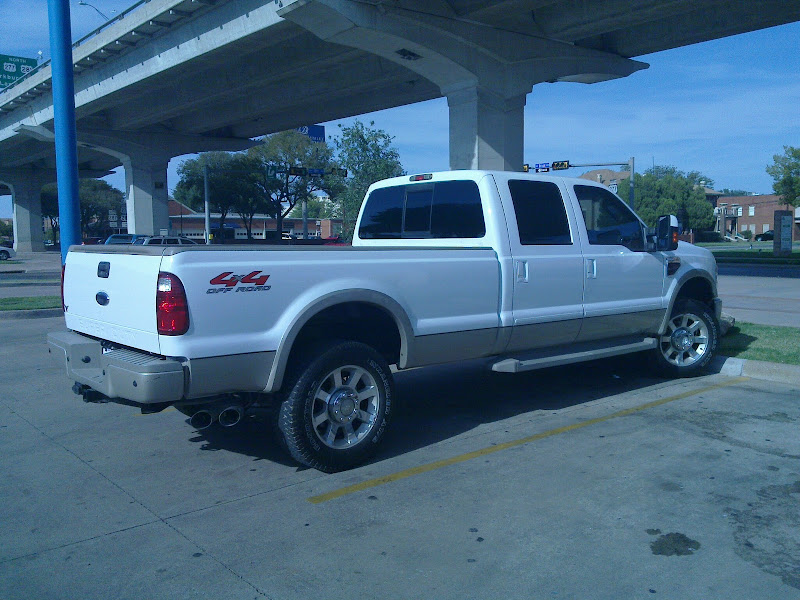 Its an 08 F350 LB CC King Ranch, loaded. I bought it last fall with 82K. Its now got a bit over 100K on it. Its been back to the dealer several times on warranty since I bought it, including a complete fuel system replacement by Ford.
Its got 20 inch rubber, 3.73 gearing and a GVWR of 11,500 pounds. It weighs about 8200 pounds with fuel and me in it.
Other than the engine its been trouble free since I got it. I love just about everything about it.
Here is the engine.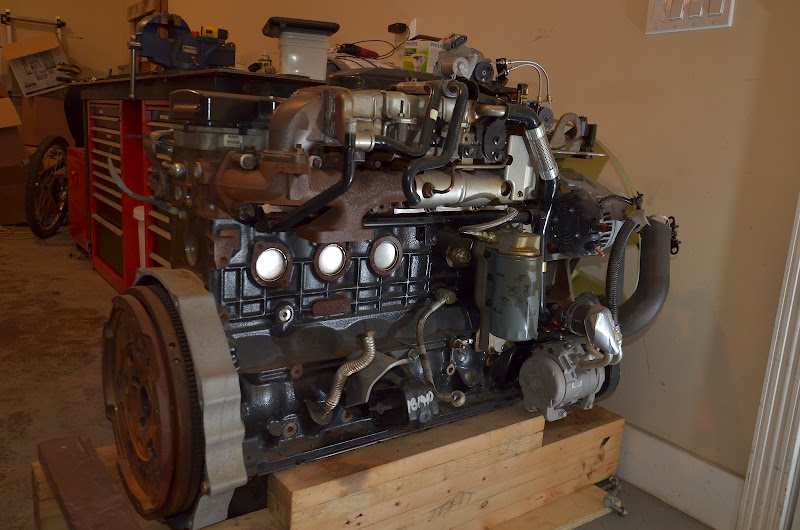 Its a late 09 Cummins 6.7. I has 4K miles on it. I picked it up at a wrecker on the drive home from buying the truck. I'll be running an 08 ECM on it, at least until EFI Live supports 09+ ECMs.
Here is the transmission.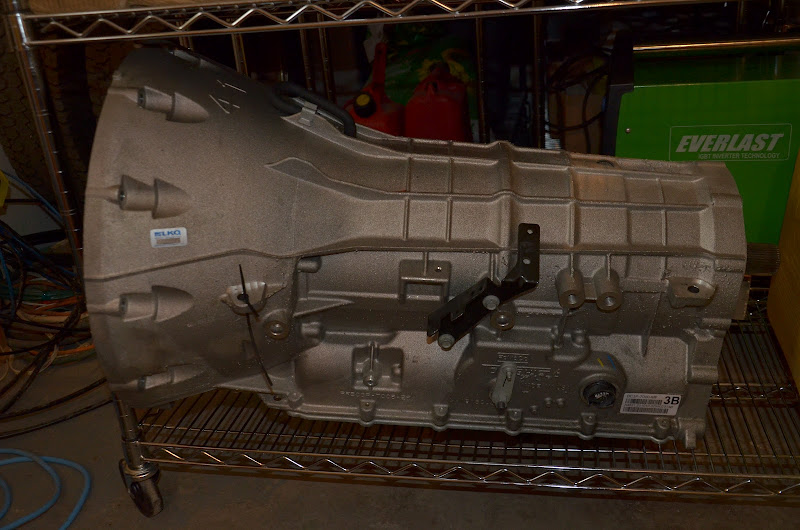 Its a Ford 2010 Torqushift 6 aka 6R140. I bought it at a wrecker.
Here are the turbos.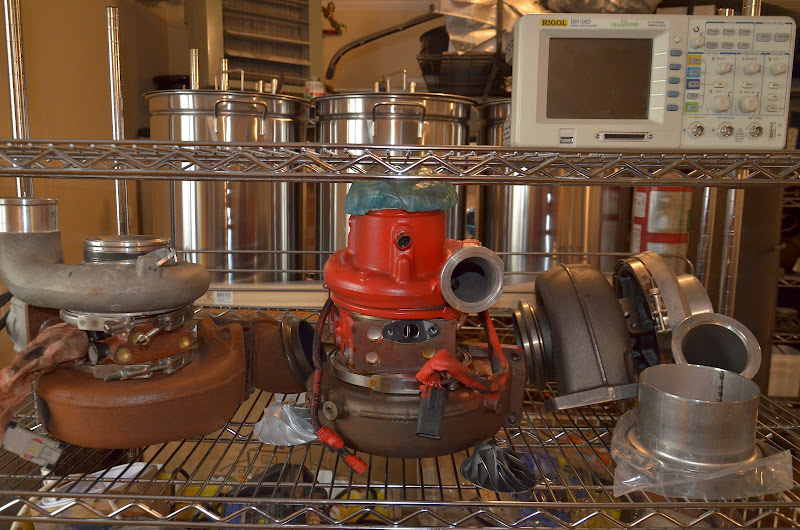 From left to right, HE351VE, HE451VE and S475. I was going to run the HE451VE as a big single, but a) it didn't output quite enough air at the top end, b) is was worried about surging at the bottom end and c) I can set up twins for the same cost and hassle, so I decided to go that way.
I'll sell the HE451 once I know for sure I don't want it.
Here are just some of the documentation and tools required to do this project.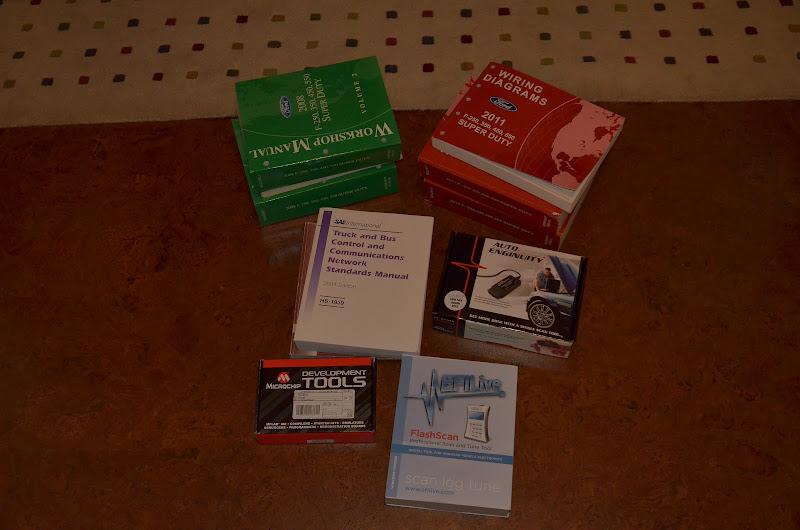 As you can imagine, marrying a Cummins 6.7, 6R140 and 08 F350 together is not trivial as far as the electronics are concerned. This is by far the hardest component of the project. But it will be well worth it for the performance, economy and reliability that we get from it.
Here is what my shop presently looks like.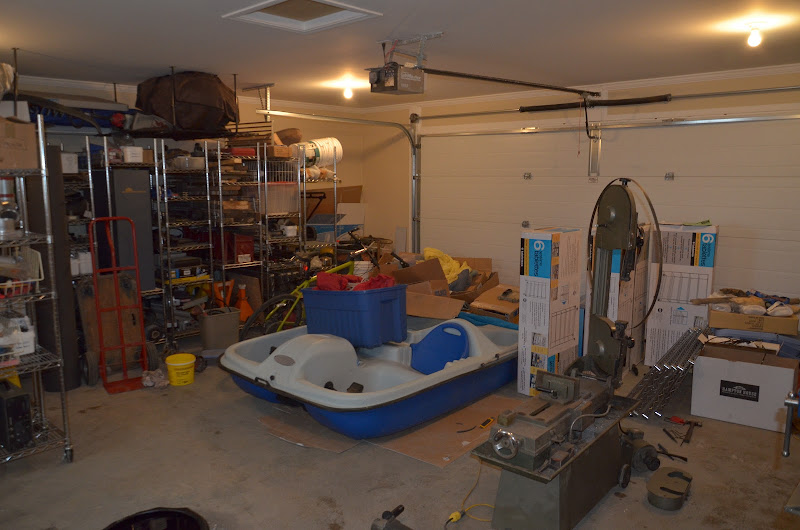 We moved last fall and I'm just getting settled in.
First step in the project is to clean the shop. Next step is to finish installing a new bearing in the band saw. Third step is to put some oversized wheels on my engine hoist. Fourth step is to build a decent engine stand to hold the 6.7 while I perform the engine mods and hang the 6R140 on it. After that I'll start tearing apart the 6.7.
Several components are in transit as I write this.
The transfer case, rods, ECM connector, studs, resonator, flex plate, etc. have not arrived yet. I expect most of this stuff to arrive this week. A few special items are also still either being bought or in transit.
Other than that, I think I have just about everything I need to get started.
The purchasing and learning component of this project has taken a lot of time and effort. Since I bought the truck in early November, just about all my spare time has been spent reading, learning and figuring stuff out.
I don't have every aspect of this swap worked out. I've got enough worked out to know I can get it running, but there are bound to be a few obstacles along the way. Its going to be fun.
I'll post as progress dictates.
Last edited: