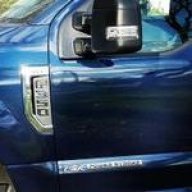 Joined

Jan 24, 2014
Messages

344
Reaction score

0
Drove 1/2 mile to home depot this morn. When I left and pulled out into the main drag, lightly stepped on it and the truck basically fell on its face. Engine light came on and the truck said it was going into protection mode. Turbo made 0 boost the rest of the way home. I have a scangaugeII installed so I pulled the code. P259f came up. Called a Ford tech buddy of mine and he said since I live about 35 mins away, to clear it and see if it comes back. He wanted me to drive it straight there in the morning with the code but it's my only vehicle right now. I cleared out and drove it down the road for about a mile trying to recreate the scenario. Truck drove like normal with no hiccups. Looked the code up online and only found this.
http://ford.oemdtc.com/tag/p259f
Reprogram pcm? Wonder if this means Ford will detune the truck.
Sent from my LG-H820 using Tapatalk