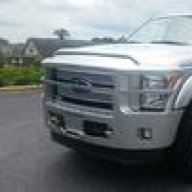 Joined

May 7, 2012
Messages

973
Reaction score

5
Location
I'm considering a trip up North where I'd need to cross PA, NY and MA on the way. I have read about horror stories where trucks that were put on a diet puffed a little smoke at the wrong time and ended up impounded, fined, bla bla bla, etc. Needless to say I wish to avoid this.

My mods are in my sig, but the gist of it is that just as it's climbing some sort of hill and goes to downshift it puffs some smoke. I don't roll coal or anything and it's really pretty clean 99% of the time (unless I lay into it.) There's also some hazing at idle sometimes.

I'm wondering if a compound would eliminate this issue or do I need to take it up with the tuning company or should I forget such a trip as it's impossible to get a truck like this to not smoke?

TIA as always.