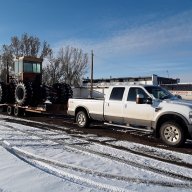 Joined

May 20, 2011
Messages

4,215
Reaction score

127
Location
I'm not sure on the 11-12, but I just put a brand new 2016 steering box in my early 08 with a borgson shaft and it's 100% bolt in and a huge improvement. I would think all 6.7 boxes from 11-16 would be the same? Only thing I had to get was the 3 bolts for a 2016 as well, the threads are larger than the 08 bolts.
So you just used bolts from the 2016 pickup?
How do you like the Borgson shaft compared to the factory shaft? Did you do the upper and lower shaft?
Is the 2016 box better than the 2011 box? My parents 2011 has way tighter steering that my 2008 does. We both have over 300k on as well. The 2011 is still tight and mine had slop.