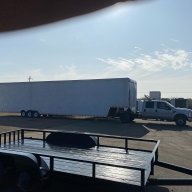 Joined

Feb 22, 2022
Messages

45
Reaction score

5
Location
So here is the story:
I bought a Choates Engineering 6.4 Workhorse long block back in March 2022. Had it shipped to my shop in Arizona to be installed. At the time my truck ha 299k miles. I drove the truck for about 40k miles and in a relative short time (6 months). Then it started making a sound like a rod knock one morning and smoking pretty badly. So i took a video and called Choates about this. they requested the video, so I emailed it to them. They (Leo and Cass) instructed me to drain the oil and measure it, so i did. No issues to be found there. well then on a short test rive the engine stalled while running and wouldn't restart. It through a cam sync code, i figured it was just a sensor, so i replaced it. No changes to my non running condition. So, I called them up again and said hey something is really wrong and that i believe it to be internal. They then tell me to have the engine removed locally and ship the engine back to them, hoping that i would incur the labor cost for that. I told them no, I will ship the while truck to you.

The truck shipped to them in Tennessee in the beginning of October. They tell me they have a backlog and they would get it looked at in about 2 weeks. Okay, so i call after a couple weeks for an update. Leo, tells me that they have been really busy but they will get to it...Okay? Another week goes by, I call Leo again. He tells me that they have my truck torn apart and the engine apart. They discovered the block is cracked, i need a new block. I then ask the question about is this going to covered under the warranty. He told me that it would be all covered under the warranty, because they could not find any reason why the block cracked. Fast forward to just before Thanksgiving, i call and ask if my truck would be done before the holiday so i could go see my family for the holiday. Leo, tells me that the engine is assembled and ready to go back into the truck, however, they are short staffed and more than likely it will not be done. But should be done before the end of the month. Around Dec 4th, still haven't hear anything so i try calling Leo again, no response for a couple days. Then finally someone answers the phone, and tells me that Leo is no longer with the company and that my original salesman would be handling this.
Now this is where it goes really side ways
Joe (salesman) tells me that my engine is completely torn apart and that they are trying to figure out what happened. He sends me a few pictures of the damages, a facetime call with the service manager viewing the engine pieces. And things are just not lining up with what Cass (owner of Choates) is telling. Cass is trying to convince me that a bolt was dropped into the timing cavity during installation. Sat there for 40,000 miles before working loose and finding its way into the timing gears. So i ask, did you find the bolt or pieces of a bolt in the oil pan? He tells e that all they found were tiny metal shavings an they could identify where they cam from. but he knows this is what happened, but cannot prove it.

I do want to note that there are no nicks or marks on the block or the timing cover at all, they look as they were made. So i cannot believe something went through the timing gears and evaporated into dust without leaving a mark no any other parts. The only damage was to the cam gear and the crank timing gear (attached pictures). And since Cass "believes" or "knows", they are refusing to cover it under warranty. And are trying to hit me for +$11k in repair costs. I have spoke with several engine builders and they all say the same thing that if they cannot prove their theory, they should cover it under the warranty. One guy even said that just because someone believes it to be true, doesn't make it so in a court room.

What do you guys think? Ask any questions i have all the details, its just alot to type out.

My theory: the camshaft was bent and the gear lash went tight in that one area. Causing the gear teeth to eat themselves. this would explain the fine metal shavings and the very odd missing teeth.