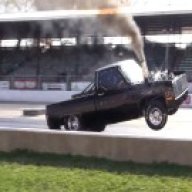 Joined

May 18, 2011
Messages

219
Reaction score

0
Dyno Proven (formally No Limit Tuning) Has now got the Honey Badger Jr's in full production. Beans Diesel is now the stocking WD for the Honey Badger line of Pumps. The HB SR will be along in the next couple months but the JR has shown to handle up to 250cc injectors very well.
How does it compare to other pumps?
All the HB's are rebuilt with new piston return springs, highest quality ball bearings on both side of the shaft (no bushings like are used on many pumps including factory).
Extensive porting done to maximize pump flow and output volume.
All O-ring Boss fittings have been increased in size to prevent thread failure or stripped threads.
How much does it increase flow?
We are working on getting a solid # for this to show increase over a stock pump. We do know it will easily maintain pressure at a low DC with injectors up to 250cc. It has also been tested with 300cc injectors and with the right tuning will also hold 2800psi.
What does tuning have to do with pump flow?
Tuning does not effect pump flow. What it does effect is injector on time which effect rail pressure. We have found that there is a very fine line with INJ pulse width and if you cross that line you may go from 2600psi to 1300 psi. When I mean fine line I do mean fine, talking in the 100 micro second range. So say if that fine line is at 3.5 Milli seconds and your current tuning calls for 4+ (some older tuning is 6+ms) then you could still see pressure drops. Of course there is always more to it with injector size etc.
What is the warranty?
All HB pumps come with a 2 year Unlimited Mileage Warranty.
What if my pump goes bad?
We will always keep pumps on hand to fill any warranty issues. I know with some aftermarket pumps in the past if it goes bad you may have to wait weeks to get a replacement pump. Once you have diagnosed that it is a pump issue we will send one out that day.
What other options are there with the pump?
Right off the bat we will include a free billet HPOP bolt cover wit the pump. Other options that will be available are keyed shaft and gear and replacement High pressure hoses. We will continue to further with more options in the future.
When and where can I get one?
Beans Diesel
of course!
Can My company become a HB dealer?
Yes they can! If you would like to become a dealer please email
[email protected]
for further details.
Our biggest thing with these pumps is to always have stock. That may not always work out but Dyno Proven has been very aggressive with buying up cores to insure that we can meet high demands and always have stock with no back orders.